We are a company committed to breaking the cycle of incarceration and forging a path to better opportunities for individuals, families, and underserved communities.
Working with partners across the globe, ViaPath Technologies (ViaPath) provides technology solutions to the criminal justice system. ViaPath's technology solutions enable agencies to rapidly deploy business applications on a single, unified platform and realize benefits to both staff and incarcerated individuals without compromising the security of correctional facilities.
As active members of the International Corrections & Prisons Association (ICPA), ViaPath is involved in the criminal justice community and knowledgeable about the way corrections are evolving worldwide.
Who is ViaPath?
ViaPath is the largest software-enabled product and services company in the public safety space in the United States. For over 30 years, we have continued to focus on the corrections market while serving sister agencies in the criminal justice system.
ViaPath possesses a team that is more than 1,100 employees strong at its core, along with a network of prestigious, in-country partners for its international deployments. Within the U.S., ViaPath serves the largest Departments of Corrections, including California ("CDCR", 110,000 inmates), as well as Ohio ("ODRC", 49,000 inmates), totaling over one million inmates. Implementations overseas, beyond the United Kingdom, include 11 Canadian Provinces, 40 facilities across New South Wales, Australia, and 13 states in Mexico.
The comprehensive ViaPath technology portfolio includes extensive communication applications that support digital transformation in the criminal justice system. Last year alone, the technology enabled 5.4 billion telephone calling minutes, 260 million secure messages, 211 million video visitation minutes, and 9.5 billion minutes of inmate tablet use. In addition, ViaPath offers a permanent free communications program to help families separated by incarceration maintain meaningful connections between, no matter a person's financial situation.
ViaPath's technology solutions are robust, scalable, and customizable, thus meeting the diverse customer requirements faced by corrections, police, and courts in their criminal justice systems.

Gad Tobaly, President of ViaPath Technologies International, discusses ViaPath services at the 2022 ICPA Annual Conference in Orlando, FL

Hundreds of corrections professionals from across the world gathered in Buenos Aires, Argentina, for the 2019 ICPA Annual Conference, at which ViaPath presented.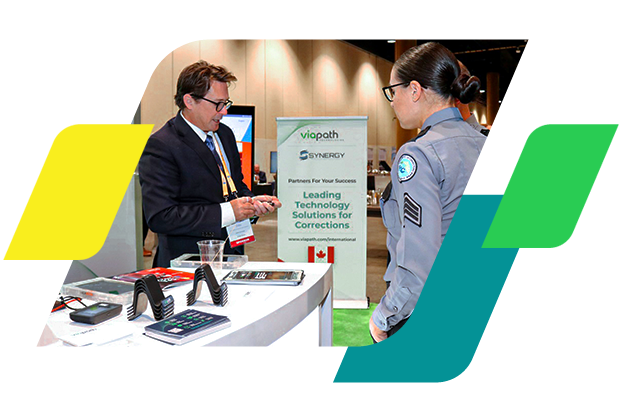 ViaPath works closely with prestigious in-country partners to meet the needs of international clients. Pictured (left to right): Gad Tobaly, President of International Operations (ViaPath), and Jonathan Walker, Chief Growth Officer (ViaPath), Deb Alderson, CEO (ViaPath), with Mr. and Mrs. Mike Kinnee, Executive Vice President (Synergy Canada)

ViaPath team standing alongside in-country Australia partners at 2022 ICPA Annual Conference exhibition in Orlando, FL. Pictured (left to right): Bob Lanigan, Team Leader, Offender Technology (Ericom); Jon Jenkins, Principal Engineer, Sales (ViaPath); Eric Gonzalez, Executive Director, Technology & Implementation Services (ViaPath); Kyle Page, CEO (Ericom); and Christopher Ditto, Vice President, Research & Development (ViaPath).
Why ViaPath Technologies?
We have the partnerships in place to support you locally.
We have over three decades of experience to inform our knowledge and shape our solutions.
We are a committed partner to both correctional facilities and incarcerated individuals.
We offer a robust platform with best-in-class applications to reduce recidivism and prepare returning citizens for successful reentry.
We scale our offerings to fit your situation and augment your team.
We deploy intuitive technology devices that are easy to use and accessible by everyone.
Finding the Right Solution
PRISONER/
OFFENDER TELEPHONE SYSTEM
A feature-rich telephone system is part of a turnkey solution that provides maximum flexibility to integrate or interface with a wide array of systems.
PRISONER MESSAGING
A digital alternative to regular mail, this email-like solution is fully configurable to a facility's message-review protocol.
VIDEO VISITATION
On-premise or remote video visitation provides a convenient and accessible way for family, friends, and professionals to keep in touch with incarcerated individuals.

TABLETS
A transformative technology device, ViaPath tablets offer applications in the areas of Education, Communication, Efficiency, and Entertainment. Content includes apps such as "Breaking Free from Substance Abuse," Movies, Music, Games, News, and more.
International Partners for Your Success
Discover Our Portfolio
Learn more about our solutions for facilities, inmates, their family and friends, and society at large.